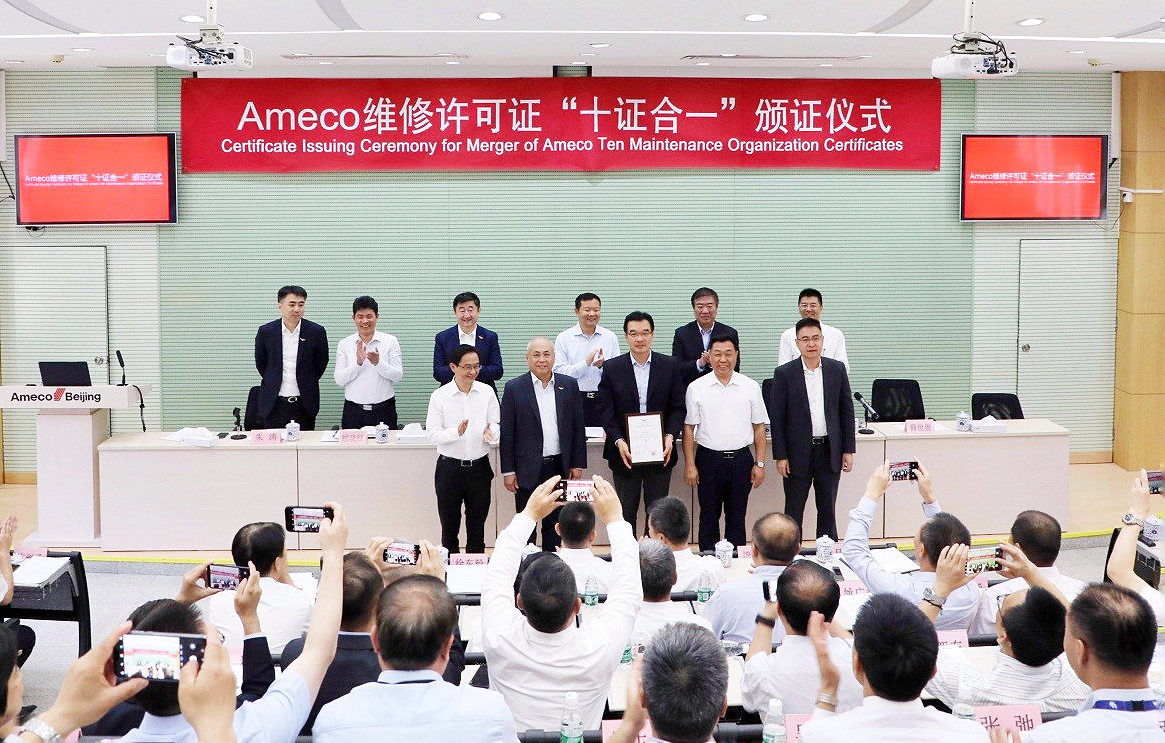 Ameco obtained CAAC first "multiple certificates unification" maintenance certificate
On May 20, Ameco maintenance certificate "ten certificates unification" ceremony was held in Beijing. Li Jian, Deputy Director of Civil Aviation Administration of China (briefly referred to as "CAAC") participated in the ceremony and made speech. Principles of relevant divisions under CAAC, leaders from all regional Administrations of CAAC, Chai Weixi, Vice President of Air China as well as executive board of Ameco, principals of all first-level organizations participated in the ceremony. Zhu Tao, Director of Flight Standard Division of CAAC presided over the ceremony. Ni Jiliang, President & CEO of Ameco accepted the first "multiple certificates unification" maintenance certificate from CAAC. 
"Multiple certificates unification" is the major reform made in the management and monitoring mode of civil aviation MRO industry, which solves the hard problem of MROs to implement cross-regional management, and would be beneficial to the unified development, resources sharing, efficiency improvement, cost reduction and high-quality development of MROs. 
Li Jian pointed out that MRO industry plays a significant role in the history of civil aviation development. In recent years, the MRO industry is strengthening "three basics project" continuously to develop civil aviation craftsmanship, and moving forward toward new phase of systematic and integrated management, and has played a crucial role in guaranteeing continuous airworthiness and safety, and made great contribution to high quality development of Chinese civil aviation industry. Currently, our national civil aviation industry is welcoming new opportunities for development, to realize MRO unit multiple certificate unification is important measure of CAAC to implement the State Council's policy spirit of reducing real economy enterprise cost, and deepen the reform of "power delegation, supervision and management as well as servicing", which represents the government's awareness of service, and improves the government's management level, meanwhile, it is beneficial for all regional administrations to unify the standards of regulation execution, promote the unification of enterprise management procedure and work standards, and will play a positive role in MRO industry development and improvement of management level. 
Li Jian also raised requirements in his speech, in the process of pushing forward "multiple certificates unification" pilot work, all MROs shall bear in mind that safety is the lifeline of civil aviation, and zero tolerance shall be given to potential risks; enhance maintenance staff "three basics" construction, cultivate good maintenance style and manners; strictly implement maintenance standards, and effectively manage the maintenance errors. CAAC relevant divisions and bureaus shall take Ameco's "multiple certificates unification" pilot work as opportunity, summarize experiences in-time, and complete corresponding management standards in order to further provide guidance to China Southern, China Eastern and Hainan Airlines etc. for their certificate integration work for cross regional MROs. All regional administrations shall actively deal with and effectively implement policy of CAAC in order to ensure that the policy can be well implemented. Additionally, observe the practical situation, tell the truth and bring tangible benefits to the development of the industry with sincere services. 
On the ceremony, Xue Shijun, Deputy Director of CAAC Flight Standard Division introduced background and work progress of Ameco maintenance certificate "ten certificates unification" work. With the integration of Air China MRO resources, new Ameco undertakes all certificates of former Ameco Beijing and former Air China Technics, who faces difficulties of cross-regional maintenance certificate management, and multiple problems such as resources sharing, work efficiency, standard unification, management cost etc. Meanwhile, the standard for supervision and management are difficult to be unified, which also increased supervision cost of authorities and reduced efficiency of supervision. Therefore, by study and research of policy, "one certificate and separate issuance" method was taken to realize Ameco "multiple certificates unification", namely maintenance certificate will be issued by North China Administration, which avoids the situation of repeated review and approval process, one authority will give approval to the identical enterprise with same regulation, there is no barrier in unified management and resources sharing; the maintenance approval items will be issued separately by regional administrations where the maintenance unit locates. This management model clarifies the work distribution of cross-regional management work, which not only satisfies the requirement of regional management efficiency improvement and administrative cost reduction, but also fit into the existing system of localized safety management responsibility. Additionally, measures of "being consistent in words" joint approval and "being consistent in word and practical" regional supervision are clarified. 
Chai Weixi firstly expressed thanks to CAAC and all administrations of China National Aviation Holding Company (hereafter referred to as "CNAH") for their care, support and assistance. He pointed out that the issuance of "multiple certificates unification" maintenance certificate represents CAAC's implementation of the new development concept raised by central government and requirements of "power delegation, supervision and management as well as sincere serving", strengthening of system construction and concrete example and best practice of CAAC to create better environment, which also fully shows that authority's high appreciation and expectation toward high quality development of CNAH as well as China civil aviation MRO industry. "Multiple certificates unification" will provide effective support on improving maintenance quality and maintenance system.   
Chai Weixi indicated in his speech, the following tasks will be carried out in three aspects by CNAH and Ameco: firstly, well organize and strictly follow the plan based on guaranteeing the safety. Always put safety first as first priority; further enhance communication with authorities; well take use of different policies of "multiple certificates unification". Secondly, maintain problem orientation, try to promote high quality development of MRO industry. Continuously improve operation efficiency and support level; accelerate information technology construction; maintain innovation development concept as leading principle; build up firm belief to become bigger and stronger. Thirdly, enhance confidence, be enthusiasm and strive for realizing the goal of becoming world leading MRO. Ameco shall take "multiple certificates unification" as chance, under the good environment of civil aviation fast growing, make efforts on creating world leading MRO and make contribution to construction of first class aviation industry group.  
Ni Jiliang made speech on the ceremony, this time, CAAC integrated ten certificates of Ameco into one, which has great significance as milestone in domestic MRO field. It's lucky that new Ameco can become the first pilot unit for maintenance certificate management model reform, which represents CAAC's confidence and support toward Ameco. Certificate unification pilot unit can not only provide important practice experiences within the industry, but also will definitely promote Ameco's foreign authority certificates integration work, and empower the full integration of Ameco quality system. 
In future, with continuous guidance and support of CAAC and CNAH, Ameco will further maintain "two consistency", implement new development concept, actively face up with various challenges, make full utilization of scientific thinking method, strengthen the three basics construction, and make up the own weaknesses for development. Meanwhile, CAAC regulations and rules shall be strictly followed. Implement the enterprise's safety responsibility carefully, enhance internal strengths, further deepen reform, strictly implement manuals, set up unified standards and procedure that are fit for cross-regional management, improve personnel training and qualification level, realize cross regional maintenance resources sharing and efficiency improvement so that Ameco can become the world leading MRO.  
On May 21, leaders of CAAC Flight Standard Division, director from seven regional administrations and supervisors from Supervision Bureau, Quan Hongbing, Ameco Executive Vice President & Chief Quality Officer, principles and relevant staff from Ameco Aviation Safety & Quality Division (QS) held workshop about "ten certificates unification" work plan and policy. Zhang Jun, General Manager of QS made report on Ameco work plan. All participants made discussion about authority supervision model and responsibility distribution, original maintenance certificate and JMM certificate, Inner Mongolia line maintenance capability extension, maintenance capability approval in the same location, personnel qualification transfer, releasing document etc. Zhang Dongpei, Deputy General Manager of QS introduced transitional period integration plan for maintenance certificates, and all regional administrations examined and accepted the plan. 
By report, CAAC will take "one certificate separate issuance" pilot work as basis, actively explore institutional reform of Certificate Management Office (CMO), in order to realize the management of "one certificate one issuance", further improve supervision efficiency and quality and contribute to high-quality development of enterprise.
Text/PP Zhao Sixue, Li Xinqi, Translation/ MP Gu Yi