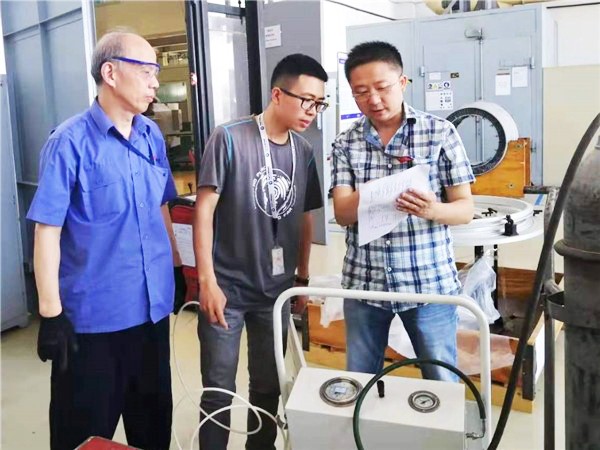 Since 1st August 2018, the Engine Overhaul PBU (Beijing) established the repair capability of silicone rubber abrasion belt for V2500 engine, the repair has been successfully carried out on eight engines. Customer feedback products have excellent performance and reliable quality. At the same time, it reduces the maintenance cost and shortens the maintenance TAT. 
On February 26, 2016, the first V2500 engine was successfully overhauled by the Engine Overhaul PBU (Beijing). The department insisted on developing the ability of deep repair of spare parts independently. The silicone rubber wear belt repair project is one of the core repair capabilities. Silicone rubber anti-wear belt is installed on 8 components such as V2500 engine low pressure compressor casing and stator assembly. After a certain flight cycle, the anti-wear belt will gradually wear out or aging. Therefore, almost every engine stop repair needs to be repaired. 
In the past, due to the technical blockade of manufacturers, domestic engine repair company can only send away to repairing, which costs high maintenance and transportation costs. Silicone rubber abrasion belt repair involves chemical industry, metal materials, technology and other fields of science, and the blockade of manufacturers. It's a tough test for the project team. However, the project team was not intimidated by the difficulties. In order to ensure the repair quality of parts and improve work efficiency, the project team integrated safety and innovation ideas into the work from the beginning. Tooling is the basis of repairing abrasion-proof belt, the manufacture and improvement of 8 sets of injection mould is the most difficult. To this end, the team devoted a lot of energy to on-site decomposition of molds, assembly of mold parts, to explore the root causes of the problem, list solutions. There are also process preparations such as standardizing process control, refining operation procedures, setting process solutions at key risk points, etc. 
With the unremitting efforts of the project team, they have overcome one difficult problem after another. The project has succeeded in research and development, ending the history that silicone rubber abrasion belt can only be repaired by others, filling another gap in engine repair in China, and improving the deep repair capability of V2500. 
With the renewal of engine models, only by continuously developing the repair capability of new products, we can keep pace with the times. Engine Overhaul PBU (Beijing) has been equipped with PW4000, RB211 and V2500 series silicone rubber abrasion belt repair, has formed one of the important brands of Ameco.
Text/OB Liu Xu, Zhang Xuhui; Translator/OB Zhang Chenyue